According to Transport Canada, "School buses are the safest form of transportation for children. Children are many times safer riding a bus than any other form of transportation to school." This is a result of Provincial legislation and regulation, vehicle design & construction, fleet inspections, maintenance practices, mandated operational policies/ procedures and driver qualifications and training.
The Canada Safety Council also states, "It is 16 times safer than travelling in a family car per passenger/kilometer of travel." School bus related injuries, which are very rare, are far more likely to occur outside the school bus as students are boarding/leaving the bus or crossing the street.
CLASS takes student safety seriously and offers numerous programs and initiatives to support our students and promote school bus safety:
Ontario 8-Lamp Amber/Red Warning System
Starting in September 2022, school buses in Ontario will be equipped with an 8-lamp Amber/Red Warning System. This video serves as an introduction to what motorists will see on the road with this change.
Student Identification Tags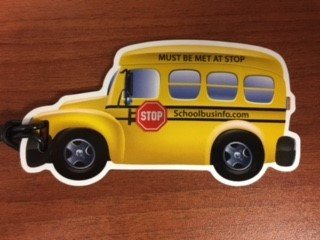 MUST BE MET yellow school bus tags identify that this student MUST be met by an adult at their stop. CLASS policy requires that all JK/SK students are met at their stop by an adult but many parents request the same for their primary students as well. These tags are provided for transported students and must be attached to the backpack where it can easily be seen by the bus driver.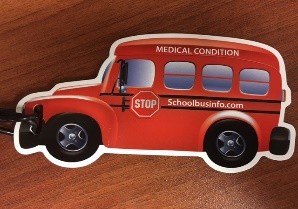 MEDICAL CONDITION red school bus tags identify that the student has a medical condition, i.e. allergy. Students in all grades whether they are transported or not are encouraged to use this identifier attached to their backpack where it can easily be seen.
School Bus Safety Training
Primary Students
This school bus safety program is for students from JK-Grade 3 with a focus on basic safety. The on-screen cartoon characters provide a program covering topics from how to walk to the bus stop and wait for the bus safely, to boarding the bus, appropriate riding behaviours, getting off the bus and crossing in front.
Junior Students
This school bus safety program is for students from Grade 4-8. Focusing on both safety as well as behaviour, the program appeals to older students' sense of maturity and desire to be positive role-models for younger school bus riders. Topics include basic safety, the danger zone, bullying, respect, vandalism and much more.
CLASS "Bus Rules" are posted in both the front and rear bulkheads of all buses.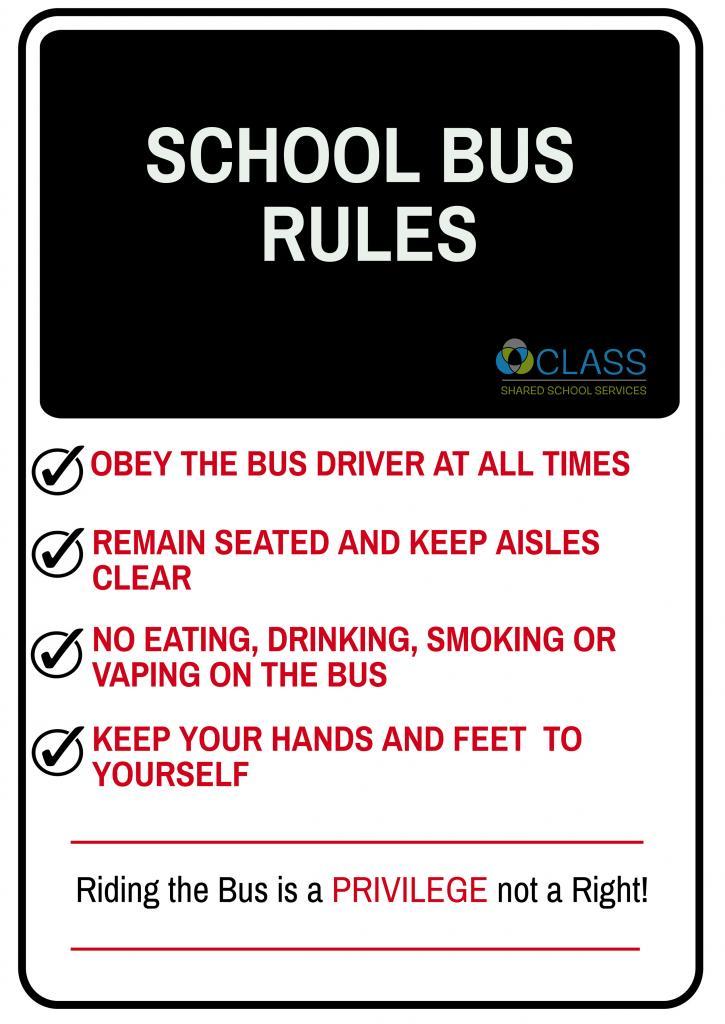 In 2006 CLASS launched their digital video surveillance equipment initiative with the purchase of 13 camera systems. By September 2011, 100% of our school buses were equipped with digital video surveillance systems.
The surveillance system acts as a deterrent to poor behaviour and assists both drivers and schools with the handling of disciplinary issues or bullying on the school bus.  Acceptance and use of transportation services implies the consent of parents/guardians for the recording of data and use of the system.  The CLASS Video Surveillance on School Buses procedure are located here.
First Time Rider is an education and awareness program designed to familiarize young children and their parents/guardians with school buses and school bus safety. Funded by the Province of Ontario, this videos has been created to provide a standardized first-time rider safety training program.
The program is intended as a fun learning experience and is approximately 30 minutes in length, broken into smaller segments. The program has five (5) key areas of focus:
Standardized provincial safety video
Review of basic safety procedures
Short ride on a school bus (parents/guardians too!)
Crossing the road safely
Proper loading and unloading on the bus
Who is it for?
The First Time Rider program is targeted at JK/SK children and their parents/guardians.
When does it happen?
The program usually occurs on the 3rd Saturday in August from 9am – 11:30am. It is an open house style event and we won't turn anyone away.
Where is it?
We host the event at two locations simultaneously; one program in Chatham and one program in Sarnia.  Typically, they are hosted at school locations with appropriate facilities.
Why Should We Attend?
School bus transportation is extremely safe.  To maintain this safety record, we need to be diligent together.  Kindergarten children and their parents/guardians must be familiar with school bus safety rules such as how to get on and off the bus safely and how to be safe on the bus to keep them safe in years to come.  The First Time Rider program is an opportunity to introduce school bus safety rules to children, and for parents/guardians to become familiar with school bus procedures.


Bullying is any unwanted, aggressive behavior that involves a real or perceived power imbalance. The behavior is repeated, or has the potential to be repeated, over time. Bullying incidents can happen within the school building, or on the school bus. CLASS is committed to keeping our students safe while they are on our buses and bullying will not be tolerated. Any occurrences of bullying should be reported to your school bus driver immediately so appropriate action can be taken.

To promote awareness, Bully Free Zone signs are posted within the school bus as a reminder that everyone has the right to feel safe on our buses.
Global Positioning System (GPS)
All CLASS school buses are equipped with GPS units. GPS provides our bus operators and CLASS staff with important unbiased information such as:
Where is the bus? real-time location
Was the bus speeding?
Did the bus stop at the intersection?
What time was the bus at a scheduled stop?
Did the bus activate its lights at a scheduled stop?
How long was the bus idling?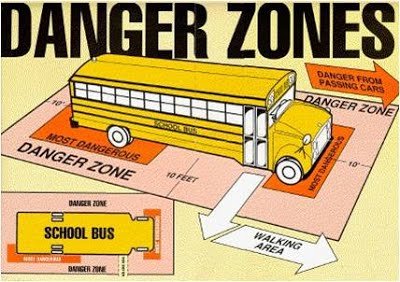 Parents can help to keep their children safe by talking to them about the DANGER ZONES around the school bus.
Children should never enter the DANGER ZONE unless a school bus driver has given them permission. If a child must cross the street they must know all the rules to cross safely: 

Using the "10 Giant Steps" rule is a safe way to identify the DANGER ZONE around the school bus, particularly when crossing in front of the bus.
Stay out of the danger zone always! No one should ever enter the DANGER ZONE unless they're sure the driver has given them permission to do so.
If you drop anything in the danger zone, leave it. Never stop to pick it up! If possible, speak with your driver about retrieving the item.
If you can touch the bus, you are too close!
Always make sure you have the attention of the school bus driver when you're near the bus.
No one should ever play around or near school buses.
When leaving the bus, walk directly home.
REMEMBER: if you can't see the driver, the driver can't see you!
Never walk or play behind the school bus!
School Bus Driver Qualifications
Requirements
To drive a school bus in Ontario, you need a valid B Class licence.  A Class B licence allows you to drive a school bus with seating for more than 24 passengers. It also allows you to drive vehicles covered by C, D, E, F and G class licences.  Learn more about requirements for obtaining a Class B license from the Ontario Ministry of Transportation here: www.mto.gov.on.ca/english/driver/bus-driver-licence.shtml
Interested in driving a school bus?  Contact information for CLASS school bus operators here: www.cklass.ca/services/student-transportation/school-bus-operators/
Emergency Preparedness Training
CLASS has a robust and custom Emergency Preparedness Program for school bus drivers.  It was originally launched in April 2007 and this three-hour program covers several topics including First Aid, CPR, EPI Pen and Asthma Inhaler administration.  Every CLASS bus driver is required to take this training and renew it every three years.
CLASS Sponsored Professional Development
CLASS is committed to providing ongoing training for our school bus drivers. We utilize Professional Development days for this training. We cover topics such as bullying, student behaviour and special needs training.
School Bus Operator Training
Local School Bus Operators provide a wide range of on-going training for their drivers. Many of these sessions occur as part of their regular safety meetings.  Ask your local bus operator for more details.