Rental Categories
The following rental categories, also referred to as permit types, determine priority of use and rental fees.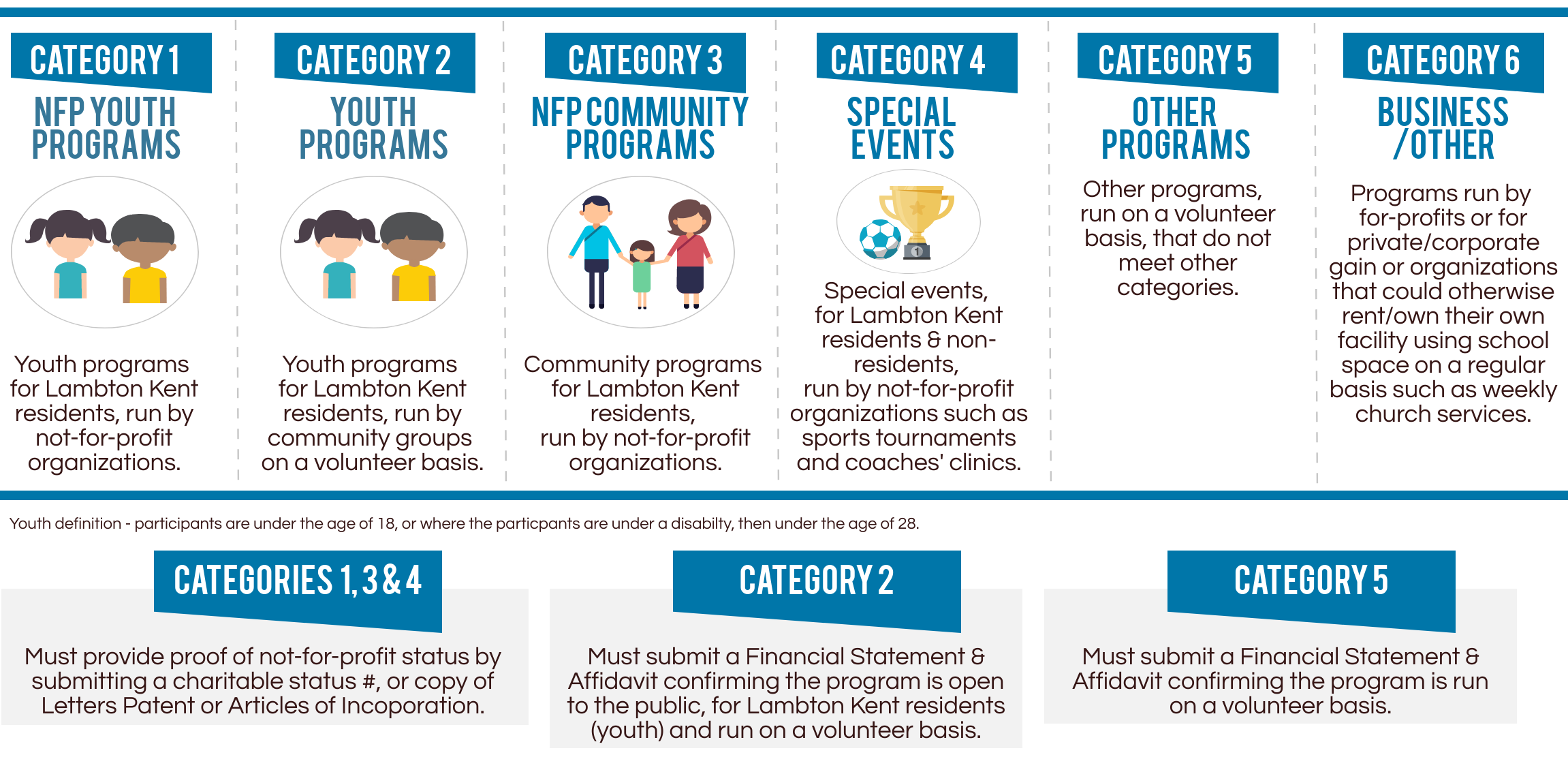 Rental Charges
Rental charges, which are reviewed annually, are subject to HST and are calculated as follows:
Permit Application Fee + Rental Fees + Custodial Fees (if applicable).
Custodian fees – A custodian must be on site for the duration of all indoor rentals. Custodial fees are charged when a custodian is required to be at a school, outside regular working hours. There is a 3-hour minimum charge for weekend rentals. Time to open, clean-up, close/secure the school are also added to weekend permits, on average 1/2 hour to open and 1 to 1.5 hours to clean-up and secure the building, depending on the size and nature of the event. When custodians are regularly on duty there is no charge unless set-up or additional clean-up is required.
Subsidized Rental Charges
To support affordable access to school facilities the Ministry of Education provides school boards with an annual Community Use of Schools grant which boards use to subsidize rental charges for not-for-profit organizations. While this program is in effect, categories 1,3 and 4 are eligible for subsidized rental rates; should this program end regular non-subsidized rates apply.
Other Charges Applicable to all Categories
Permit Alteration Fee – $15 charge for requested additions to approved permits.
Cancellation Fees – Minimum 3 business days' notice required, or No-Show fees apply.
No-Show Fees – $25 + unsubsidized rental and custodial costs.
Service Fee – $10 After-Hours Extreme Weather Cancellation fee.
Misuse After-Hours # – $25 + call-out charges for unnecessary calls made to After-Hours #.
Refunds
All permit processing fees are non-refundable. Permit holders who wish to change or cancel a permit must do so at least 3 business days prior to the permitted date in order to receive a full refund. Groups who cancel permits with less than 3 business days' notice will be required to pay 100% of the total permit cost. Refunds will be made, upon request, via the original method of payment, with the exception of cash transactions. All refunds based on cash transactions will be paid via cheque reimbursement. Refunds will be completed within 60 days of the request.