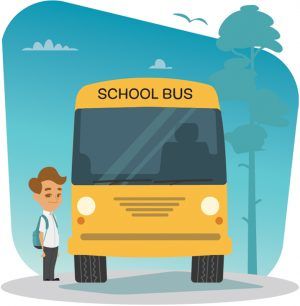 If you have an interest in working with children, enjoy driving and care about safety this could be a rewarding occupation for you.  Some of the many benefits of being a school bus driver are:
Regular, part‐time hours
License and training are provided
Weekends, Holidays & Summers off
Competitive hourly rates
Our exceptional local bus companies are currently looking for friendly, positive individuals who enjoy children and have a desire to make a difference in their lives but also want a career that fits their own lifestyle.
School bus drivers are important, they are the start and end to every child's school day!
Want to learn more? Connect with a bus company in your area today!
Bothwell, Chatham, Dresden, Thamesville, Wallaceburg

Routes in Blenheim,
Merlin and Chatham

Routes in Chatham-Kent
and Port Lambton

Routes in Lambton County,
Sarnia and Brights Grove

Routes in Lambton County,
Sarnia and Brights Grove

Routes in Lambton County,
Sarnia and Brights Grove

Routes in Lambton County,
Sarnia and Brights Grove