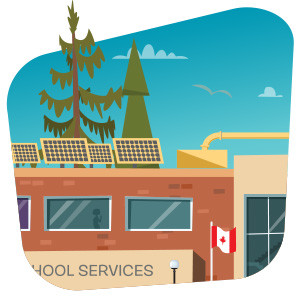 Energy & Environmental Services has been operated under the umbrella of CLASS since June 2014.
Our core function in this business unit is to provide leadership, expertise and support in the areas of energy conservation and sustainable environmental stewardship for the St. Clair Catholic and Lambton Kent District School Boards.  We are responsible for energy management and conservation operations at the Boards' facilities and to interact as system resource and liaison with School Boards, Government Ministries, Utility Providers and Energy Consortiums.
The importance of sustainable environmental education and environmental protection is embedded into the Boards' planning processes, and operations as required, including capital initiatives and maintenance / operational practices.  This approach aligns with the mandate and philosophy of the Green Energy Act, 2009. In support of Environmental Leadership, the Boards integrate sustainable environmental practices into relevant policies and procedures as well as academic and operational services, and recognize this policy with respect to the implementation of existing policies and procedures.
To learn more about the Boards' commitment to energy & environmental services, check out our Energy & Environmental Policy here. We also encourage you to explore this CLASS business unit further by using our sub menu links on the right hand side of the page, or below if you are viewing this page on a mobile device.